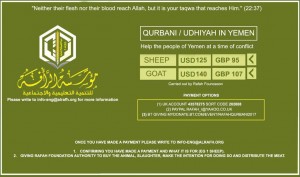 The Messenger of Allah ﷺ informed us that there is no action more beloved to Allah on the Day of Eid than making a sacrifice. He told his beloved daughter Sayyidah Fatimah al-Zahra' that she would be forgiven for her previous wrongdoings with the first drop of blood to be shed from the sacrificed animal. She asked if this reward was specifically for the Household of the Prophet and he replied: "For us and for all Muslims."
Rafah Foundation is performing qurbani/udhiyah in Tarim. The meat will be distributed to poor people in Tarim and the surrounding area and refugees who have fled their homes in other parts of Yemen due to conflict.
Rafah Foundation supports teachers, students and educational institutions and those in need and is currently providing aid to those suffering the effects of war in Yemen.
Cost of a sheep: $125 US = £95
Cost of a goat: $140 US = £107
How to Donate:
UK Bank details
Rafah International
Barclays Bank
Account no 43578275
Sort Code 20-26-08
Via BT giving
www.mydonate.bt.com/events/rafahqurbani2017
Paypal
rafah_i@yahoo.co.uk
Once you have made a payment please write to info-eng@alrafh.org
1. Confirming you have made a payment and what it is for (eg 1 sheep).
2. Giving Rafah Foundation authority to buy the animal, slaughter, make the intention for doing so and distribute the meat.
May Allah accept all our good deeds at this blessed time.