"Many philosophers and intellectuals have discussed, debated and written on the topic of utopia. Is it real? Where is it found? Yes, it is real and we experience it every time we are in a gathering of prayers upon the Beloved ﷺ."
Sharif Muhammad Sa'id al-Bid
Sharif Muhammad was one of the great educators and callers to Allah in East Africa in recent times. Here we take a brief look at his life.
Sharif Muhammad's Father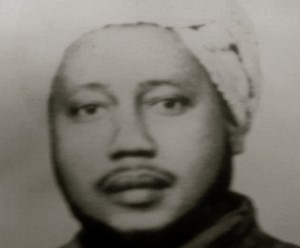 Sharif Muhammad's father, Sharif Sa`id, was born in Malindi, Kenya in 1330 (1912). There was a close bond between his father, Sharif `Abdullah and Habib Salih bin `Alawi Jamal al-Layl, one of East Africa's greatest scholars and callers to Allah. Habib Salih duly married his daughter, Hababah Nur, to Sharif `Abdullah, and she gave birth to Sharif Sa`id.
Sharif Sa`id's father passed away when he was fourteen years old,  and he then went to study on the island of Lamu under his uncle, Habib Ahmad bin Salih Jamal al-Layl. When he completed his studies at the age of nineteen, he opened a madrasah and began teaching. He spent the rest of his life spreading knowledge and calling people to Allah. He worked alongside Habib Ahmad Mashhur al-Haddad in Uganda. Whole villages accepted Islam at his hands in the Arua region, near the border with Congo. When he came to a village he would open a shop. When a customer came to buy something from him, he would give him more than he had paid for or give him free foodstuffs. If someone bought tea, for example, he would give him free sugar, saying: "You will need this for your tea." When asked why he was doing this, he would explain that the Prophet Muhammad ﷺ taught people to be generous. When he had won the people's love and trust, they would allow him to teach their children. Very quickly all the people of the village would embrace Islam. Then he would move on to another village.
He died in a road accident on 28th Muharram 1383 (1963) on his return from performing hajj and was buried in Mambrui, Kenya.
Sharif Muhammad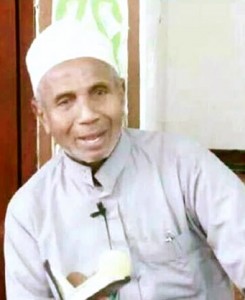 Sharif Muhammad was born in Lamu, Kenya, in 1361 (1942). He was born into the al-Bid clan, a branch of the Ba `Alawi tribe, which traces its lineage back to Imam Ahmad al-Shahid, the son of al-Faqih al-Muqaddam.
He memorised the Qur'an and began to study the Islamic sciences, first at Madrasah al-Najah and then at the famous Ma`had al-Riyad, established by Habib Salih Jamal al-Layl. His main teachers were his father and Sayyid Muhammad bin `Adnan al-Ahdal, as well as his maternal uncles `Ali, `Alawi and `Abd al-Rahman, the sons of Ahmad al-Badawi Jamal al-Layl and the Qadi Muhmmad bin Shaykh al-Wa'ili.
He also learned from some of the greatest scholars in East Africa at the time, at their forefront Habib Umar bin Ahmad bin Sumayt and Habib Ahmad Mashhur al-Haddad. On his many trips abroad he took knowledge from great scholars such as Habib `Abd al-Qadir bin Ahmad al-Saqqaf, Habib Muhammad bin Salim bin Hafiz, Habib `Umar bin `Alawi al-Kaf, Shaykh Bikri Rajab al-Halabi and Sayyid `Alawi bin `Abbas al-Maliki.
He began teaching in Madrasah al-Najah at the tender age of fourteen and continued to do so for the next seven years. Then, at the age of twenty one, he moved to Mambrui to become the principal of Madrasah al-Nur. He remained in this post for twenty five years. He then built his own institute in Mambrui, Madrasah al-Ghanna, after consulting Habib Ahmad Mashhur al-Haddad. The two institutes helped to foster a whole generation of scholars who spread knowledge throughout East Africa and beyond.
When he was not teaching his students in Mambrui, Sharif Muhammad was on the road, travelling often for weeks at a time to the most remote corners of East Africa. He would spend almost the whole of Ramadan going from town to town calling people to Allah and he would pray the `Id prayer wherever he was at that time. He would travel throughout Rabi al-Awwal and Rabi al-Thani to attend Mawlid gatherings, of which he established more than one hundred in various regions. He was responsible for overseeing one hundred religious schools and he built around sixty mosques and religious schools in the region. Countless numbers of people accepted Islam at his hands.  He dedicated his life to calling people to Allah, without depending on any individual or organization. There is no place in East Africa that he did not reach, and he went as far afield as Congo and Sudan.
He was loved by all wherever he went and was immensely humble in spite of his vast knowledge. In the way he dressed he did not stand out from those around him, preferring to wear the East African kufiyah (cap) as opposed to the turban worn by the scholars. He lived in a region often affected by political instability and Muslim communities faced many hardships, but he always remained firm upon the path of truth. He would say: "Worry about whether you are on the path of truth or the path of falsehood rather than being concerned about whether people love you or hate you." He authored several works in various sciences and wrote poetry in both Arabic and Swahili.
He is recorded as saying:
"According to my count, Allah has praised the Prophet ﷺ in the Qur'an explicitly in 435 verses. However, in reality every single verse of the Qur'an contains praise of him."
"Many philosophers and intellectuals have discussed, debated and written on the topic of utopia. Is it real? Where is it found? Yes, it is real and we experience it every time we are in a gathering of prayers upon the Beloved, ﷺ."
"When there is no will, there is no shortage of excuses. When there is a will, there is no shortage of ways."
"Three types of people will never be wealthy no matter how much money they have: those who practise magic, traffic police who love taking bribes and those who make money in the name of religion such as those who claim they are taking care of orphans or building mosques but they take the money for themselves."
Sharif Muhammad passed away on 23rd Safar 1434 (5th January 2013) and was buried alongside his father in Mambrui.
May Allah have mercy upon him and his father and allow us to walk in their footsteps.