Habib Mundhir bin Fu'ad bin `Abd al-Rahman al-Musawa was born in Cipanas, West Java, Indonesia in 1973. After completing his elementary Islamic education at the institute of Habib `Abd al-Rahman al-Saqqaf (may Allah have mercy on him) in Bukit Duri, Jakarta, he was selected in 1993 to join the first group of Indonesian students to study under Habib `Umar bin Hafiz in Tarim. This was before Dar al-Mustafa was housed in its current building, and Habib `Umar would teach his students in his house in Mawla `Aidid. He developed an intense attachment to Habib Umar which was a key to his later success.
Upon completing his studies in 1998, Habib Mundhir returned home and expended his energies calling people to Allah. He established 'Majelis Rasulullah ﷺ,' a gathering which began with six people but became one of the largest gatherings of remembrance and knowledge in Indonesia. Prior to his passing, over 30,000 people attended his weekly gatherings at Al-Munawar Mosque in Jakarta and up to a million people would attend his special mawlid events held at Istiqlal Mosque and the National Monument Complex. Most of them were young people and many came from troubled backgrounds that were neglected by society. In his early days he would go from door to door calling people to Allah and would send out hand-written invitations to young people known to be drug users inviting them to attend his gatherings.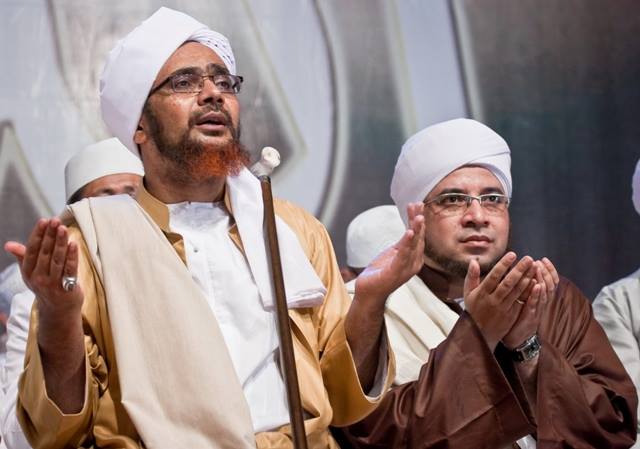 From Banten to Bali to the most remote regions of Papua and even neighbouring lands such as Singapore and Malaysia, Habib Mundhir would tirelessly reach out and convey the message of our beloved Prophet ﷺ with complete gentleness and kindness. He is known for his noble disposition and wisdom, and his ability to transcend barriers in his efforts to unite the Ummah.
Habib Mundhir had been plagued by illness for long periods of his life and eventually passed away on Sunday 15th of September 2013/ 9th Dhu'l-Qa`dah 1434 at the age of 40, leaving behind his wives and three children.
The funeral prayer was held after Zuhr prayer the following day and was attended by thousands, including scholars, artists and officials. Indonesian president Susilo Bambang Yudhoyono delivered a eulogy. He was laid to rest at the al-Haddad (Kuncung) burial complex in Kalibata, South Jakarta.
"Indeed, a reunion with the Beloved ﷺ, is the remedy," Habib Mundhir once said.
May Allah Most High have mercy on him and unite him with his beloved grandfather, Sayyiduna Muhammad ﷺ. May He allow us to benefit from his legacy.
The Shaykh and the Murid gives a unique insight into Habib Mundhir's life.