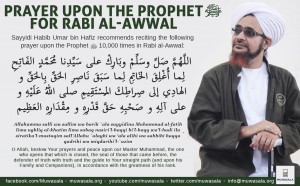 Sayyidi Habib Umar bin Hafiz recommends reciting the following prayer upon the Prophet ﷺ  10,000 times in Rabi al-Awwal:
اللَّهُمَّ صَلِّ وسَلِّمْ وبَارِكْ على سَيِّدِنا مُحَمَّدٍ الفَاتِحِ لِما أُغْلِقَ الخَاتِمِ لِما سَبَقَ نَاصِرِ الحَقِّ بِالحَقِّ و الهادِي إلى صِراطِكَ المُسْتَقِيمِ صلى اللهُ عَلَيْهِ وعلى آلِهِ و صَحْبِهِ حَقَّ قَدْرِهِ و مِقْدَارِهِ العَظِيم
Allahumma salli wa sallim wa barik `ala sayyidina Muhammad al-fatih lima ughliq al-khatim lima sabaq nasiri'l-haqqi bi'l-haqq wa'l-hadi ila siratika'l-mustaqim sall'Allahu `alayhi wa `ala alihi wa sahbihi haqqa qadrihi wa miqdarihi'l-`azim
O Allah, bestow Your prayers, peace and blessings upon our Master Muhammad, the one who opens that which is closed, the seal of those that came before, the defender of truth with truth and the guide to Your straight path (and upon his Family and Companions), in accordance with the greatness of his rank.
This prayer is known as Salat al-Fatih, which is narrated on the authority of Sayyiduna `Ali bin Abi Talib. It was then taken on by Shaykh Abu Hasan al-Bakri and later Shaykh Ahmad al-Tijani, who both taught it to their students.
Habib Umar said that those calling to Allah have received many openings after repeating this prayer.
Click here to download an audio recording of Habib Umar reciting the prayer.